The 2021 Spring Fling is hosted by Kaitlyn Sanchez and Ciara O'Neal. They'd love followers! Ciara's blog is here and Kaitlyn's blog is here.
https://sites.google.com/view/springflingwritingcontest/main
The directions are: (1) find a gif and (2) write a spring-inspired story that is no longer than 150 words in length (3) post your best story between April 1 and April 3, 2021. Add the URL from your blog to the form on the Entries page of Ciara's blog.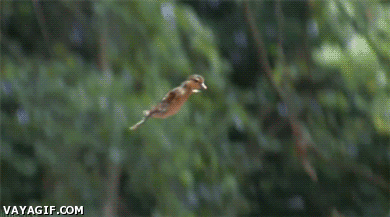 IT'S JUMP DAY, DUCKY!
By Joyce Uglow
"Ducklings! EEEPPP! It's time!" Ducky quivered at Mama Wood duck's call to jump. His sisters leaped unflustered and upbeat.
"1 2 3 4 5 6 7 8 9 … Where's your brother?"
Ducky cowered in the empty nest. "I'll stay with Blankie."
"EEEPPP! Be brave!"
Wobbly, worried Ducky peered over the edge.
"Don't be a sitting duck!"
"I can't fly."
"Flutter, fluff, and flap."
"I'm no rubber ducky! What if I sink?"
Covered with goose-bumpy worries and clutching Blankie, Ducky peered down at the pond. Mama and sisters bobbed below. Ducky leaned a little further… and leaped!
Blankie flapped and fluttered until… SNAG! TANGLE! STUCK!
"Here I come – on my own!"
pointed his wings, "Jeeee!"
and floated "Yippee!"
down, "Whoo w-eet!"
down, "Hooray!"
down, "Zowee!"
and landed.
"Ta da! I'm no chicken! I'm a plucky ducky!"
"And a perfect ten!"
"EEEPPP! Follow me! Let's make a wake in the lake."